Team Histories

Jonathan Port grew up playing ZX Spectrum and Commodore 64 games during the glory days of the bedroom coder. His favourite game of all time is Dragontorc, the classic ZX Spectrum adventure title developed by Graftgold founder Steve Turner and published by Hewson Consultants in 1985.
A business software programmer by day, Jonathan spends his evenings carrying the bedroom coder torch into the new millenium by creating action-packed, retro-inspired titles as Four5Six Pixel.
Jonathan's games are lovingly handcrafted, with a simple philosophy that when you play you should always come away with a cherished moment.

Huey Games founders Rob Hewson, Andrew Hewson and John Ogden have more than 45 years of combined games industry experience between them. As an independent developer and publisher, Huey Games focus is on pure pick-up-and-play entertainment combined with cutting edge technology.
Rob has more than a decade of development experience in Lead Design and Game Director roles, on games including LEGO The Lord of the Rings, LEGO Batman 3, LEGO Star Wars: The Force Awakens and Hydrophobia.

John has been a technical lead for more than fifteen years, building bespoke game engines from the ground up and working on next generation smart TV services at the BBC.

Industry pioneer Andrew Hewson has published hit titles in the 8-bit and 16-bit eras, including Uridium, Paradroid, Nebulus, and Pinball Fantasies. He was also the founding chairman of UK trade body ELSPA (now known as UKIE).



Hewson Consultants Ltd 1980 - 1991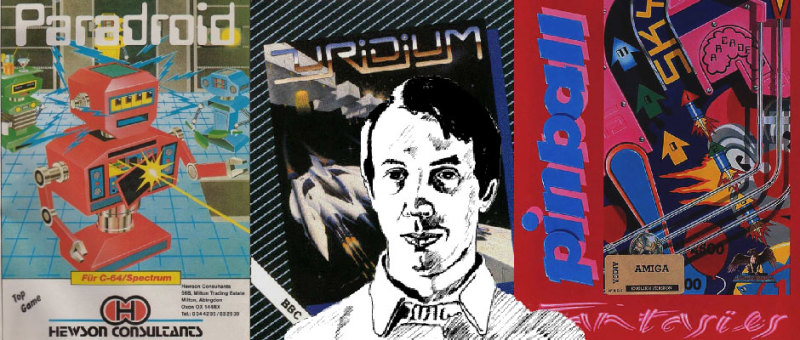 Throughout the 1980s Andrew Hewson built up a reputation for producing some of the finest games of the era, publishing smash-hit titles such as Avalon, Paradroid, Uridium, Nebulus, Exolon, Cybernoid, Quazatron, Stormlord and Zynaps from legendary programmers like Steve Turner, Andrew Braybrook, Raffaele Cecco and John Phillips.
The history of Hewson Consultants stretches all the way back to 1980, when Andrew Hewson purchased a ZX80 micro-computer and began to write programs for it, including some simple games.
 
He wrote notes about what he had learnt on an old typewriter and turned them into a humble book called Hints & Tips for the ZX80 which was only available via mail order. The success of his first book led to a sequel and an opportunity to become a columnist for Sinclair User magazine, in which Andrew wrote his monthly Hewson's Helpline column for the best part of a decade.
 
More books followed and other programmers began to send their games in to Hewson Consultants, starting it on the path to becoming one of the most celebrated British game producers of the period.
Hints & Tips for Videogame Pioneers
In 2013 Andrew & Rob Hewson ran a successful Kickstarter campaign for a book called Hints & Tips for Videogame Pioneers.